Tanks / Silo's
Mild Steel Tanks

2x Steel tank, 2000 liter, operating pressure max. 6 bar, hot dipped galvanized steel, cylindrical body and dished heads thickness 5 mm, 2x DN 50 (2") flanged connection, AISI 304 stainless steel magnetic level gauge, DN 32 (1-1/4") drain, DN 400 manhole, dimensions approx. Ø 1300 mm x 1888 mm height, unused
Read more

1x Steel tank, 50000 liter, heating coil inside the tank with 50 mm connections outside the tank, insulated, , horizontal construction on 2 fixed bearing shells, hoisting eyes, 600 mm manhole on top, ladder, used for vegetable oil (palm-oil), dimensions 10.9 x 2.75 x 2.85 m (lxwxh)
Read more
Stainless Steel Silo's

1x Stainless Steel Silo, Klinkenberg, 2000 litre usable volume / capacity, horizontal agitator to prevent bridging (4 kW, 43 rpm), output/metering screw 150 mm Ø (1.5 kW, 43 rpm), stainless steel AISI 304, provided with load cell (1500 kg), Infastaub AM 064 dust filter (0.18 kW), dosing hopper mounted on carbon steel frame, stai...
Read more
Stainless Steel Tanks

1x Stainless Steel Tank, Terlet, ss 316, 100 liter, provided with bottom driven scraper agitator, 3 mixing speeds, electrically tilting, control panel, used in the food industry (salads)
Read more

1x Stainless Steel Tank, Siersema, ss 304, 1000 liter, top mounted Veenstra FRR200 mixer, 1.5 kW drive, 468 rpm, heat exchanger / jacket (4 bar) in 2 zones (1x bottom, 1x cylinder), the tank is insulated and covered with stainless steel jacket, 2 spray balls for cip cleaning in the tank, on top a 420 mm Ø manway, a 72 mm Ø fill ...
Read more

1x Stainless Steel Tank, 1300 litre net capacity, heatable grid for powder supply, propeller agitator, 0.75 kW, 915 rpm, cylinder jacketed and insulated over a height of 1 m, hermetically sealed stainless steel housing, free standing on 3 legs with load cells (1000 kg each), incl. junction box, sloped bottom (complete emptying) ...
Read more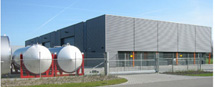 Surplus Select is located in Swifterbant (Netherlands). More contact details....
Read more