Drying / Cooling / Heating
Blanchers (screw)

1x Screw blancher, FTNON BV, with closed water circuit, buffer tank with 12x 9000 W electric heating element, pump (40 m3/h, 2.2 kW) to blancher, equal distribution of temperature by 27 supply pipes, water overflow and return flow through removable filter of 1 m2, inlet height 195 cm, outlet height 217 cm, screw 400 mm Ø, overal...
Read more
Compressed air dryers

1x Compressed air dryer, Ecodry (Parker), KEN 200, 145 m3/h, design pressure 16 bar, design temperature 50 °C, 230 V, 50 Hz, incl. pre and after filtration
Read more
Fluidised-bed dryers/coolers

1x Fluidised-bed dryer/cooler, Allgaier, WS-V-T/K-0.40-4.20, vibration fluidised dryer/cooler, surface 400 x 4200 mm, product-contacting parts of AISI 316 Ti, two-mass-resonance-system, 3 kW Bauer drive with speed adjustment, gentle product treatment for sensitive products, incl. fan to transport the exhaust air (7500 m3/h, 1000...
Read more
Heat exchangers

1x Heat exchanger, Terlet, Terlotherm, product volume 169 litre, max. pressure product area 5 bar g, product temperature range 0-153 °C, jacket 1; volume 32 litre, max. 4 bar g, -10-100 °C, jacket 2; volume 26 litre, max. 4 bar g, -10-100 °C, product inlet and outlet NW 80, product contact parts of stainless steel AISI 316L, wei...
Read more

1x Heat exchanger, API Schmidt-Bretten, Sigma, plate heat exchanger with 6 sections (3x 3 litre, 1x 2 litre, 2x 1 litre volume), max. work. pressure 0-6 bar, max. work. temperature 0-120°C, NW 32 connections with dairy coupling, used in the food industry (dairy)
Read more

1x Heat exchanger, steam (or hot water) - air heat exchanger, 50 tubes of 25 mm Ø x 81 cm length, fins around the tubes of 57 mm Ø, frame dimensions 100 x 93 x 15.5 cm + flange connections
Read more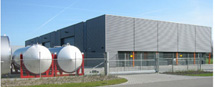 Surplus Select is located in Swifterbant (Netherlands). More contact details....
Read more