Measuring / Regulating / Feeding
Feeders

1x Feeder, Gericke, DIWE / GAC, consisting of GAC 232 screw feeder with feeding tool/homogeniser for a free product flow, feeder front easy to open, outlet 50 mm Ø, screw 46 mm Ø, shaft 15 mm Ø, pitch 46 mm, hopper 120 litre, the feeder is mounted in a DIW E 200 loss-in-weight system with tare compensation, 0.55 kW Bauer drive w...
Read more

1x Feeder, Brabender, loss-in-weight feeder DBW G1 350 with DDSR 60 twin screw feeder and Congrav C control unit, mounted on a carbon steel frame, loss-in-weight feeder rated output 1500 kg/h, twin screw feeder with stirring agitator for mixing ingredients and to prevent bridging, 1 set of spiral screws and 1 set of concave scre...
Read more

1x Feeder, Ferlin, Gravimix FGB 5 3/0, gravimetric dosing/blending system, provided with 3 component hoppers
Read more
Frequency Converters

1x Frequency Converter, Danfoss, VLT 3004, 2.2 kW, 380-415 V, IP 54, with fan (forced cooling), code nr. 175H7248
Read more
Meters Flow

1x Flowmeter, Endress+Hauser, Promass 80F50, in-line highly accurate measurement of mass flow and density, 2", measurement up to 70,000 kg/h, remote transmitter, for liquids and gases under varying, demanding process conditions, used in the food industry
Read more

1x Flowmeter, Endress+Hauser, Promass 83I16, in-line measurement of mass flow, density, temperature and viscosity, 1/2" FB (Full Bore), measurement up to 18000 kg/h, sanitary
Read more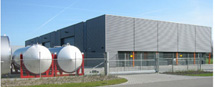 Surplus Select is located in Swifterbant (Netherlands). More contact details....
Read more