Mixing / Blending
Agitators

1x Agitator, Ystral, Y 7.500 L / TFN-3D, Jetstream mixer, 7.5 kW drive, 1470 rpm, 220 mm Ø, insert length 500 mm, not or nearly not used
Read more

1x Agitator, Jongia, TS 40, 7.5 kW, 1460 rpm, two dismountable propellers, 1x propeller 200 mm Ø, 1x collapsible propeller 100/400 mm Ø, insert length shaft 1.2 m, product-contacting parts of stainless steel 316 (1.4401), solid construction with extra bearings in the stainless steel lantern piece, 250 mm Ø connection flange
Read more

1x Agitator, Typhoon, 7.5 kW Eex eIIT3 drive, 420 rpm, shaft and propeller of AISI 316, insert length shaft 3 m, 3-blade-propeller, propeller blades 240 x 105 mm, shaft 55 mm diameter, stainless steel flange
Read more
Dispersers

1x Disperser, Ystral, X50/10, provided with Dispermix generator for homogeneous mixing, dispersing and emulsifying, two speeds 1430 rpm (0.37 kW) en 2830 rpm (1.5 kW), Ystral HG10 moveable lift with manual crank, lifting range 0-114 cm, ground wire with clamp, used in the food industry
Read more

1x Disperser, complete unit for powder induction, wetting and dispersing, skid mounted, full automatic operation, continuous output due to double tank system, capacity max. 8,000 l/h and viscosity max. 800 mPa.s., product contact parts of stainless steel AISI 316, touch screen operation, main components; Ystral Conti-TDS 3 (Ex ...
Read more
Drum mixers

1x Drum mixer, Lindor, L-01500-R-CR41, max load 1500 litre / 750 kg, liquid injection, WIP/CIP spraying devices, 3 large easy access doors, 2.2 kW SEW drive, batch mixer, used in the food industry
Read more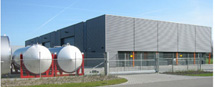 Surplus Select is located in Swifterbant (Netherlands). More contact details....
Read more