Centrifugal pumps
De centrifugaalpomp wordt vooral gebruikt voor het verpompen van vloeistoffen met een lage viscositeit.


Centrifugaalpompen op voorraad

1x Centrifugal pump, HA-ES, NCDC/L50-160, 60 m3/h, 1,7 bar, 11 kW, Rotor NL drive, 2900 rpm
Read more

1x Centrifugal pump, Grundfoss, CP2-140 KAN, multi-stage, 1,5 kW, 2860 rpm
Read more

1x Centrifugal pump, Hilge, Norm-Durachrom 40-160, 28.5 m3/h, 2 bar, 3 kW, pump of stainless steel 1.4404 (AISI 316L), inlet DIN 65, outlet DIN 40, flanged connections, used for hot water
Read more

1x Centrifugal pump, Durco (Flowserve) Chemstar, 80x65-160, product contact parts of stainless steel 316 (1.4408), flanged connections, inlet 80 mm, outlet 65 mm, 11 kW drive, 2940 rpm, 50 Hz (12,7 kW / 3530 rpm / 60 Hz), flexible coupling, pump and drive mounted on base plate, incl. 19 liter seal reserv...
Read more
1x Centrifugal pump, Packo, FP 62/112, 1.1 kW, 2845 rpm, 50 mm suction connection with dairy coupling, 24 mm pressure connection, product contact parts in stainless steel 316
Read more
Werking Centrifugaalpompen
Centrifugaalpompen verplaatsen het te verpompen product doormiddel van centrifugaalkracht. De basis wordt gevormd door een pomphuis met daarin een waaier. De zuigleiding (toevoer) is midden voor de waaier geplaatst. De vloeistof wordt door de waaier met hoge snelheid naar de buitenzijde van het pomphuis verplaatst. De persleiding (uitvoer) zit dan ook aan de buitenzijde van het pomphuis.
De opbrengst van de centrifugaalpomp is een combinatie van capaciteit (debiet) en de opvoerhoogte (druk). Elke centrifugaalpomp heeft een maximale opvoerhoogte die kan worden bereikt. Hoe lager de benodigde opvoerhoogte, hoe hoger de capaciteit. De relatie tussen deze 2 parameters wordt weergegeven in een pompcurve.
De pompcapaciteit wordt meestal aangegeven in l/sec of m3/h in combinatie met de druk uitgedrukt in bar of meter waterkolom (mwk).


Uitvoeringen van Centrifugaalpompen
Er zijn veel verschillende uitvoeringen van de centrifugaalpomp. Zoals de capaciteit (m3/h en druk), het materiaal waarvan ze zijn gemaakt (rvs, gietijzer, staal, kunststof), de afwerking (hygiënisch, sanitair), ééntraps of meertraps, horizontaal of verticaal. Ook zijn er centrifugaalpompen die een mengsel van vloeistof en gas kunnen verpompen of vloeistoffen met vaste delen.
Een standaard centrifugaalpomp is niet zelfaanzuigend. Wel zijn er zelfaanzuigende uitvoeringen te verkrijgen maar deze hebben een veel lager rendement.
De bouwwijze kan ook sterk verschillen. Zo zijn er pompen waar de waaier op de motoras is gemonteerd en zijn er modellen met tussenlagering, in dat geval zijn aandrijving en pomp(huis) samengebouwd op een fundatieplaat.
Verder zijn er diverse opties zoals een te koelen of te verwarmen pomphuis, ATEX, enkel of dubbel mechanical seal of magneetaandrijving.
Door het eenvoudige ontwerp is de centrifugaalpomp goedkoop in het onderhoud.


Toepassingen van Centrifugaalpompen
De centrifugaalpomp wordt onder andere gebruikt voor water, melk, wijn, bier, wort, room, vetten/olie, suikeroplossingen, afvalwater, pekel, reinigingsmiddelen, vruchtensappen, frisdranken, wrongel, zuren, logen, kalkmelk en voor CIP (cleaning in place) reiniging.
De centrifugaalpomp levert een nagenoeg pulsatievrije stroom maar is niet geschikt als doseerpomp.


Merken Centrifugaalpompen
Gangbare merken in de procesindustrie zijn Alfa Laval, APV, Dickow, DP Duijvelaar, Fristam, GEA Tuchenhagen, Goulds, HAES, Hilge, Inoxpa, KSB, Packo, Pomac, Prolac, SIHI en Waukesha Cherry-Burrell.
Request quotation
0
products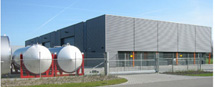 Surplus Select is located in Swifterbant (Netherlands). More contact details....
Read more