Mixing / Blending
Agitators

1x Agitator, Turbo-Rührwerke, OF 64, ring propeller agitator 150 mm Ø, shaft length 96 cm, 1.1 kW, 1450 rpm, agitator angle adjustable, height adjustable from 16 to 96 cm, shaft made of stainless steel 316 (1.4401), mobile stainless steel stand, dimensions 90 x 91 x 219 cm (lxwxh), for mixing in drums and IBC containers, used in...
Read more

1x Agitator, Typhoon, 7.5 kW Eex eIIT3 drive, 420 rpm, shaft and propeller of AISI 316, insert length shaft 3 m, 3-blade-propeller, propeller blades 240 x 105 mm, shaft 55 mm diameter, stainless steel flange
Read more
Conical mixers

1x Conical mixer, Foeth, HV 1000, max. filling volume 990 dm3, max. filling weight 990 kg, suitable for powders and granules with a maximum bulk density of 1 kg/dm3, liquid supply in central shaft, 250 mm Ø bottom outlet with shut-off valve, 3 kW drive, 1675 mm Ø, cone height 3870 mm, total height 3250 mm, empty weight 700 kg, u...
Read more
IBC Blenders

1x IBC Blender, Slo-Rid / Alucon, complete Intermediate Bulk Container blending system consisting of IBC blender, IBC filling station, weighing scale, IBC discharge station, IBC lifting beam and 4x IBC container, Slo-Rid IBC single plinth blender with Allen Bradley control panel, by use of a wall the main pedestal can be housed ...
Read more
Mixing and Aerating machines

1x Mixing and Aerating machine, Mondomix, G-75, continuous aerator / whipper, provided with Mono Pumps progressing cavity pump, Endress+Hauser mass flow meter, all piping double-walled, Siemens Simatic touch panel, on the rotor 41 of the 1120 pins are missing, stator is complete, used in the food industry (whipped cream)
Read more
Paddle mixers

1x Paddle mixer, Dinnissen, Pegasus PG 400, dual-shaft mixer, nominal volume 400 litre, mixing volume 200 - 560 litre (depending on product), fluidised bed zone for spraying on liquids without the formation of agglomerates, externally mounted bearings with air purge seals, 2 pneumatic actuated full length discharge valves with o...
Read more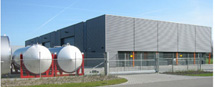 Surplus Select is located in Swifterbant (Netherlands). More contact details....
Read more