Mixing / Blending
Agitators

1x Agitator, Turbo-Rührwerke, OF 64, ring propeller agitator 150 mm Ø, shaft length 96 cm, 1.1 kW, 1450 rpm, agitator angle adjustable, height adjustable from 16 to 96 cm, shaft made of stainless steel 316 (1.4401), mobile stainless steel stand, dimensions 90 x 91 x 219 cm (lxwxh), for mixing in drums and IBC containers, used in...
Read more

1x Agitator, Typhoon, 7.5 kW Eex eIIT3 drive, 420 rpm, shaft and propeller of AISI 316, insert length shaft 3 m, 3-blade-propeller, propeller blades 240 x 105 mm, shaft 55 mm diameter, stainless steel flange
Read more
Conical mixers

1x Conical mixer, Nautamix, 2000 litres volume, working volume 1700 litres, stainless steel liquid pass-through shaft, stainless steel product contact parts, cast steel swing arm, mixing screw with pinol support, 2 outlets with pneumatically operated shut-off valve, outlets 20 x 20 cm, 2 cleaning/inspection hatches at the bottom...
Read more
Mixing and Aerating machines

1x Mixing and Aerating machine, Mondomix, G-75, continuous aerator / whipper, provided with Mono Pumps progressing cavity pump, Endress+Hauser mass flow meter, all piping double-walled, Siemens Simatic touch panel, on the rotor 41 of the 1120 pins are missing, stator is complete, used in the food industry (whipped cream)
Read more
Paddle mixers

1x Paddle mixer, Dinnissen, Pegasus PG 400, dual-shaft mixer, nominal volume 400 litre, mixing volume 200 - 560 litre (depending on product), fluidised bed zone for spraying on liquids without the formation of agglomerates, externally mounted bearings with air purge seals, 2 pneumatic actuated full length discharge valves with o...
Read more

1x Paddle mixer, Inotec, IM 600, heated dual shaft stainless-steel paddle mixer, usable volume / capacity 600 litre, provided with jacket / heat exchanger, hot water temperature in jacket max. 55°C, interleaving paddles mounted on different levels, short mixing times, discharge via one outlet, separate sampling outlet, stainless...
Read more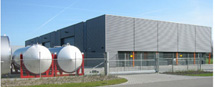 Surplus Select is located in Swifterbant (Netherlands). More contact details....
Read more