Feeders

1x Feeder, K-Tron, SWB 300-N ATEX, Ex II 2D cK IP65 T135°C, high feeding precision due to continuous auto tare by two weighing units, scales type K-SFT-III XP 60N, incl. K-Tron KSHM controller with user interface, suitable for controlled gravimetric feeding of free flowing powders, granulates and fibers,...
Read more

1x Feeder, Van Beek, 700 litre hopper with mixer/lump breaker (4 kW SEW drive, 13 rpm), 150 mm Ø dosing screw (3 kW SEW drive, 69 rpm), 4 load cells of 500 kg weighing capacity, junction box and weighing module with display in stainless steel housing , hopper provided with 250, 200 and 70 mm Ø connection...
Read more
Request quotation
0
products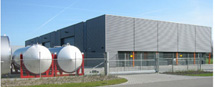 Surplus Select is located in Swifterbant (Netherlands). More contact details....
Read more