Feeders

1x Feeder, K-Tron, SWB 300-N ATEX, Ex II 2D cK IP65 T135°C, high feeding precision due to continuous auto tare by two weighing units, scales type K-SFT-III XP 60N, incl. K-Tron KSHM controller with user interface, suitable for controlled gravimetric feeding of free flowing powders, granulates and fibers,...
Read more

1x Feeder, Schenk Process, MechaTron Coni-Flex, loss-in-weight feeder for continuous feeding of free to moderately flowing bulk solids, Coni-Flex feed hopper with flexible wall and external agitation, integrated Dosicont measuring, control and supervisory electronics, quick and easy dismounting of contac...
Read more
Request quotation
0
products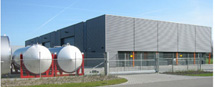 Surplus Select is located in Swifterbant (Netherlands). More contact details....
Read more