Explosion Protection Valves

1x Explosion Protection Valve, ATEX Explosionsschutz, Floatvalve, DN 300, max. explosion pressure 12 bar abs, temperature inside -20 °C - +200°C, made of stainless steel AISI 304, the FloatValve explosion protection valve prevents the dust explosion from expanding beyond the place where it is fitted, the valve acts as a flame ba...
Read more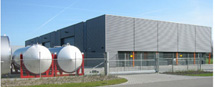 Surplus Select is located in Swifterbant (Netherlands). More contact details....
Read more