Drying / Cooling / Heating
Fluidised-bed dryers/coolers

1x Fluidised-bed dryer/cooler, Schugi, surface 400 x 2500 mm, product-contacting parts of AISI 304, used in the food industry
Read more
Heat exchangers

1x Heat exchanger, Celsius (Van Beek), CTR 600, screw heat exchanger, heat transfer through jacketed wall and screw shafts, max 2.5 barg, 120°C, medium water, 50 mm insulation, stainless steel AISI 304 product contact parts, screw 576 mm Ø x 6000 mm long, 7.5 kW SEW drive, 44 rpm, overall dimensions 1150 x 7715, 2350 kg, used in...
Read more

2x Heat exchanger, Alfa Laval, TS6-MFG, side 1: volume 2.04 litre, test pressure 13 bar, design pressure 0-10 bar, temperature 0-120°C, side 2: volume 2.5 litre, test pressure 13 bar, design pressure 0-10 bar, temperature 0-120°C, heat load 2 kW, heating surface 0.7 m2, gasket NBRP Clip-on, plate material Alloy 316, weight 126 k...
Read more

1x Heat exchanger, API Schmidt-Bretten, Sigma 17 SBN, plate heat exchanger, 2 sections of 2 litre volume each, max. work. pressure 6 bar, max. work. temperature 150°C, DN 40 connections with dairy thread, head 2 up and 2 down, dimensions 64 x 42 x 113 cm (lxwxh), used in the food industry
Read more
Heating elements (electrical)

1x Electrical heating element, Heatsystems Elektrowärme-Technik, capacity 45 kW (6 heating elements of 7.5 kW), 400 V 3ph, 65 A, design pressure 12 bar, design temperature 350°C, heating surface 2.3 m2, heating elements of stainless steel 316Ti, housing of mild steel, DN 40 flange connections, dimensions 246 x 40 x 47 cm (lxwxh)...
Read more
Ovens

1x Oven, Sveba Dahlen, S8, hot air oven with steam system and rotating rack for 8 trays of 600 x 450 mm, baking programmes can be stored, connections for (cold) water, condensation drain, damper, exhaust and electrical power 400V, 20.5 kW, the oven is placed on an height adjustable stainless steel frame
Read more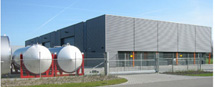 Surplus Select is located in Swifterbant (Netherlands). More contact details....
Read more