Separation / Filtration / Screening
Curved screens

1x Curved screen, Eillert, 0.75 mm slot opening, effective surface area 500 x 1300 mm (wedge wire screen), overall height 2.05 m, minor damage at lower screen part, a static bow screen is used for separation of solids from process water and waste water
Read more
Cyclones

1x Cyclone, cyclone for separation of particles/dust from air using centrifugal force, cyclone 400 mm Ø, feed opening 125 mm Ø, air discharge opening 250 mm Ø with filter sleeve support, product/dust outlet 150 mm, height 85 cm excl. filter support, cyclone made of stainless steel 304 (EN 1.4301), suitable for product recovery, ...
Read more
Dewatering drums

1x Dewatering drum, 2 mm slit-width, inlet 85 mm Ø, drum 250 mm Ø, 5x cleaning nozzle, dimensions 144 x 45 x 104 cm (lxwxh)
Read more
Dust filters

1x Dust filter, Aerob-Beth, AAS 0.4 Gr.2 Br.U RSD, installation filter, 4 filter elements, 4.2 m2 filter surface, compressed air cleaned, Donaldson IPC control system for filter cleaning
Read more

1x Dust filter, H13 EN 1822 HEPA mini pleat filter / final filter, installation length 1500 mm (incl. adapter), 55 mm Ø flange connections, differential pressure measurement, used in the food industry
Read more

1x Dust filter, Techno-G, receiver with pneumatic cleaned dust filter, 7 filter elements (55 mm Ø x 200 mm), product inlet 50 mm Ø, product outlet (bottom) 300 mm Ø, provided with E+H Ex level switch, overall height 132 cm, used in the food industry
Read more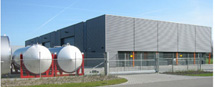 Surplus Select is located in Swifterbant (Netherlands). More contact details....
Read more