Separation / Filtration / Screening
Curved screens

1x Curved screen, Eillert, 0.75 mm slot opening, effective surface area 500 x 1300 mm (wedge wire screen), overall height 2.05 m, minor damage at lower screen part, a static bow screen is used for separation of solids from process water and waste water
Read more

1x Curved screen, Van der Giessen, 3 mm slot opening, effective surface area 900 x 560 mm (wedge wire screen), hinged screen for easy cleaning, inlet opening 88 x 24 cm, sieve overflow outlet 100 x 33 cm with flange, water outlet DN 200 Ø with flange, excl. cover, overall dimensions 132 x 91 x 176 cm (lxwxh), a static bow screen...
Read more
Dewatering drums

1x Dewatering drum, 2 mm slit-width, inlet 85 mm Ø, drum 250 mm Ø, 5x cleaning nozzle, dimensions 144 x 45 x 104 cm (lxwxh)
Read more
Dust filters

1x Dust filter, Cipres Filtr Brno, Filter CARM-V 06/1/1/07/0M S OSEX EX, Ex II 1/3 D, 6 filter elements, 4.2 m2 filter surface, compressed air cleaned, ReCo RM 208 C 0V ATEX control system for filter cleaning, unused
Read more

1x Dust filter, DCE, DLMV 7/7 K3, compressed air cleaned dust filter, 7 m2 filter area, 10 filter elements, 1.1 kW fan, DS controller for automatic filter cleaning, used in the food industry
Read more

1x Dust filter, H13 EN 1822 HEPA mini pleat filter / final filter, installation length 1500 mm (incl. adapter), 55 mm Ø flange connections, differential pressure measurement, used in the food industry
Read more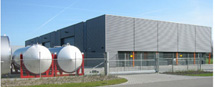 Surplus Select is located in Swifterbant (Netherlands). More contact details....
Read more