Separation / Filtration / Screening
Air/Gases Filters

1x Air/Gases Filter, Ultrafilter, P-EG 0108, stainless steel 304 filter housing for purification of compressed air and other technical gases, nominal flow 1080 m3/h, max. 1440 m3/h, DN 50 flange connections, installation length 260 mm, overall height 587 mm
Read more
Dewatering drums

1x Dewatering drum, 2 mm slit-width, inlet 85 mm Ø, drum 250 mm Ø, 5x cleaning nozzle, dimensions 144 x 45 x 104 cm (lxwxh)
Read more
Dust filters

1x Dust filter, ATEX dust filter installation consisting of stainless steel filter housing, Donaldson DLM V25/12S installation filter, provided with Hörbiger EVN 2.0 flameless explosion relief valve, Rippert Anlagentechnik RSK 250 stainless steel non-return valve, Trox Technik Hepa filter H14 2530 m3/h (2x 1265 m3/h), Konz Luftt...
Read more

1x Dust filter, Aerob-Beth, AAS 0.4 Gr.2 Br.U RSD, installation filter, 4 filter elements, 4.2 m2 filter surface, compressed air cleaned, Donaldson IPC control system for filter cleaning
Read more

1x Dust filter, H13 EN 1822 HEPA mini pleat filter / final filter, installation length 1500 mm (incl. adapter), 55 mm Ø flange connections, differential pressure measurement, used in the food industry
Read more

1x Dust filter, suction filter for vacuum conveying with non-return valve, connection 77 mm Ø
Read more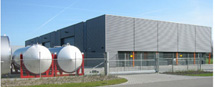 Surplus Select is located in Swifterbant (Netherlands). More contact details....
Read more