Milling / Crushing / Pressing
Colloid mills

1x Colloid mill, FrymaKoruma, MZ 100, sanitary toothed colloid mill, double-jacket, product contact parts in 316L stainless steel, elastomers in FPM, max. operating temperature 80 °C, motor 5.5 kW, 2880 rpm, equipped with sealing liquid unit, equipped with SIP (Sterilization in Place), suitable for CIP (Cleaning in Place), contr...
Read more
Grinders

1x Grinder, Petsmo Products, Titan P-5050, crushes to 16 mm max., outlet 22 cm Ø, inlet 38 x 58 cm, 22 kW SEW drive, 50 rpm, capacity 3-5 ton/h, overall dimensions 244 x 67 x 70 cm (lxwxh), used by feed kitchens, slaughterhouses, biogas plants, composting plants and recycling plants
Read more
Lump breakers

4x Lump breaker, Van Beek, BU 300, made of stainless steel 316L, rotor, stator and sieve provided with Tungsten carbid coating, throughput opening 300 x 300 mm, installation height 400 mm, removable sieve with 2 mm perforation, delumper sides provided with insulation panels, 4 kW SEW drive, these delumpers are unused
Read more

1x Lump breaker, Spaans, ss 316L, usable product throughput opening 1400 x 470 mm, flanged bottom and top, overall height 285 mm, 2,2 kW Ex drive, 60 rpm, flexible coupling
Read more
Roll crushers

1x Roll crusher, CIH Breda, 8F, 2-stage roller crusher, pre-crusher with 2 riffled breaking rollers (10 teeth per inch), fines crusher with 2 riffled breaking rollers (20 teeth/inch spiral 12:1), pre-crusher and fines crusher both with 4 kW drive, inlet 260 mm Ø with Goudsmit permanent magnet (SECF145303), infeed dosing with 0.3...
Read more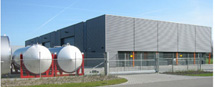 Surplus Select is located in Swifterbant (Netherlands). More contact details....
Read more