Milling / Crushing / Pressing
Frozen meat cutters

1x Frozen meat cutter, Rühle, GFR 450/250 S, capacity 3,000 kg/h, max block dimensions 450 x 250 mm, 4 knives for cutting into 90 mm strips, 5.5 kW, operating temperature down to -20°C, infeed height 1,000 mm, overall dimensions 1,430 x 850 x 1,360 mm (lxwxh), weight 330 kg, suitable for meat, fish, vegetables, butter, etc.
Read more
Grinders

1x Grinder, Petsmo Products, Titan P-5050, crushes to 16 mm max., outlet 22 cm Ø, inlet 38 x 58 cm, 22 kW SEW drive, 50 rpm, capacity 3-5 ton/h, overall dimensions 244 x 67 x 70 cm (lxwxh), used by feed kitchens, slaughterhouses, biogas plants, composting plants and recycling plants
Read more
Lump breakers

1x Lump breaker, Spaans, ss 316L, usable product throughput opening 1400 x 470 mm, flanged bottom and top, overall height 285 mm, 2,2 kW Ex drive, 60 rpm, flexible coupling
Read more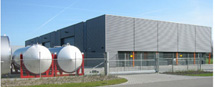 Surplus Select is located in Swifterbant (Netherlands). More contact details....
Read more