Bulk bag / Sack handling
Big Bag Dischargers

1x Big Bag Discharger, big bag discharge station of stainless steel, pneumatic big bag connecting system for easy dust-free docking, the big bag connecting system can pneumatically lowered to tauten the big bag, big bag support table equipped with a vibrator and 2 pneumatic lifters for poor flowing products, bag dump station wit...
Read more
Big Bag Lifting Beams

2x Big Bag Lifting Beam, Abresch / Vermeulen Hijsmaterialen, bearing capacity max. 1930 kg, provided with lifting eye for crane, 95 x 95 cm, incl. Straightpoint Radio-Link plus wireless tension load cell (working load cell unknown)
Read more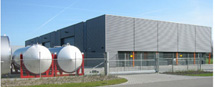 Surplus Select is located in Swifterbant (Netherlands). More contact details....
Read more