Bulk bag / Sack handling
Bag dump stations

1x Bag dump station, hopper prepared for pneumatic impactor, 150 mm Ø screw conveyor with hinged inspection/cleaning lid under the inlet, 0.75 kW SEW drive, 147 rpm, TBMA 175 dosing rotary valve with air purge shaft seals and removable venturi, DCE UMA 70H G1 self-cleaning dust filter, new antistatic polyester needle felt filter...
Read more
Big Bag Lifting Beams

2x Big Bag Lifting Beam, Abresch / Vermeulen Hijsmaterialen, bearing capacity max. 1930 kg, provided with lifting eye for crane, 95 x 95 cm, incl. Straightpoint Radio-Link plus wireless tension load cell (working load cell unknown)
Read more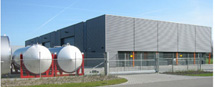 Surplus Select is located in Swifterbant (Netherlands). More contact details....
Read more