Filling machines

1x Filling machine, machine for automatic set-up, filling and sealing of carton packaging including discharge line with metal detection, printing on 2 sides and check weighing, excl. stand-alone filling machine, main components; Steven BV carton filling machine, package retrieval, package unfolding, bottom closing (heating and c...
Read more

1x Filling machine, used in clean room for milk powder (baby food), process description; powder supply via safety sieve and metal catcher to degassing and gassing hopper, transport of gassed powder to packing machine, filling of cups incl. gassing, closing/sealing and laser printing of the packaging, main components; Anutec GSC ...
Read more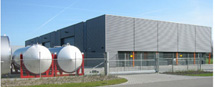 Surplus Select is located in Swifterbant (Netherlands). More contact details....
Read more