Pneumatic conveying systems

1x Pneumatic conveying system, Dinnissen, consisting of vacuum pump, filter installation, cyclone separator, dropout box (product inlet) and piping; vacuum pump: 5.5 kW, 1500 rpm, 0.3 bar vacuum; filter installation: manufacturer WAM, pneumatic pulse jet cleaning incl. controller for filter cleaning, 5 m2 filter surface, fan; cy...
Read more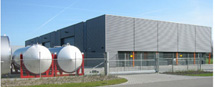 Surplus Select is located in Swifterbant (Netherlands). More contact details....
Read more