Bulk bag loaders

1x Bulk bag loader, complete bulk bag filling line with Apollo pallet dispenser, Servo Berkel Prior bulk bag filling station, roller conveyors and collision protection, product contact parts of stainless steel, the filling station is suitable for small and large big bags, filling up to 1000 kg (incl. weighing controller), double...
Read more

1x Bulk bag loader, mobile stainless steel frame with 4 big bag suspension hooks, overall dimensions 142 x 138 x 213 cm (lxwxh), used in the food industry
Read more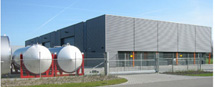 Surplus Select is located in Swifterbant (Netherlands). More contact details....
Read more