Pallet conveyors
1x Pallet conveyor, 3x chain conveyor for pallets with 1x roller conveyor for rundown and loading by forklift truck, chain conveyors provided with 3 chains, distance between outsides chains 1000 mm, SEW drives, 1.1 kW, 13 rpm, chain conveyor lengths 2x 1.63 m en 1x 2.39 m, roller conveyor with 1.15 m lon...
Read more

1x Pallet conveyor, powered roller conveyor, effective roll width 1.22 mm, length 1.62 m incl. end/stop bar, 0.37 kW SEW drive, 3x Sick photoelectric sensor (WL18 P132), 6 spare rolls
Read more
Request quotation
0
products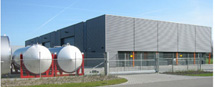 Surplus Select is located in Swifterbant (Netherlands). More contact details....
Read more