Slide cutoffs
Schuifafsluiters worden gebruikt om een productstroom geheel of gedeeltelijk te onderbreken.


Schuifafsluiters op voorraad

2x Slide cutoff, WEY, VK, opening 500 x 500 mm, stainless steel slide, cast iron housing, operating pressure PB max. 10/-0.2 bar, with electric actuator, 220/380 V, closing time 48 seconds, suitable for waste and powder handling industries
Read more

3x Slide cutoff, ss 304, opening 600 x 240 mm, slide 5 mm thick, pneumatic operated
Read more

1x Slide cutoff, ss 304, opening 500 x 500 mm (445 x 440 mm effective), slide 8 mm thick, overall height 80 mm, overall length incl. cylinder 2000 mm
Read more

1x Slide cutoff, Emil Kammerer, GPT II, ss 316Ti, DN 100, PN 10, -1 bar / +10 bar, test pressure 14,3 bar, temperature -10 / +100 degree Celsius, electro-pneumatic operated, Ex II 1/3 DTX
Read more

1x Slide cutoff, Lohse, CNA P, DN 250, max. operating pressure 8 bar, max. operating temperature -10/120°C, housing of stainless steel AISI 316L (1.4404), 10 mm valve plate of stainless steel AISI 316Ti (1.4571), pneumatic actuated, installation height 68 mm, used in the food industry
Read more
Werking Schuifafsluiters
Schuifafsluiters onderbreken een productstroom door deze af te sluiten met een vlakke plaat. Ze worden dan ook wel plaatafsluiters genoemd. De productstroom kan ook geregeld worden door de mate waarin de plaat in de stroom wordt geschoven. De capaciteit wordt uitgedrukt in doorlaatopening (DN, inch of mm) in combinatie met de toelaatbare druk (PN of bar).


Uitvoeringen van Schuifafsluiters
Er zijn veel verschillende uitvoeringen van de schuifafsluiter. Zoals de capaciteit (doorlaat en druk), de vorm (rond, vierkant, rechthoekig), het materiaal waarvan ze zijn gemaakt (rvs, gietijzer, staal, kunststof), de afwerking (hygiënisch, sanitair), het temperatuur bereik en de geschiktheid voor vloeistoffen, droge producten of beide. De procesaansluiting is met flens, kraalrand, bordelrand, rechte uiteinden of van het wafer-type. Een wafer-afsluiter wordt tussen twee flensen geklemd.
De schuifafsluiter kan handbediend zijn maar ook elektrisch of pneumatisch (enkel- of dubbelwerkend) worden aangedreven.
De mate van afdichting kan ook verschillen. Zo zijn er schuifafsluiters die voldoende afsluiten om een granulaatstroom te onderbreken en zijn er afsluiters die volledig luchtdicht zijn en absoluut vacuüm kunnen hebben. Voor de afdichting worden afhankelijk van de product- en omgevingsfactoren verschillende materialen toegepast zoals EPDM, NBR, Viton, PTFE of Neoprene.
Verder zijn er diverse opties zoals ATEX, FDA en klepstand signalering.
De snelheid waarmee kan worden afgesloten kan ook van belang zijn. Voor een uiterst snelle afsluiting worden zogenoemde zwenkafsluiters toegepast.
Toepassingen van Schuifafsluiters
De schuifafsluiter kan worden toegepast in vrije val systemen zoals onder silo's, bunkers, mengers en diverse soorten transporteurs, maar ook in het leidingwerk van pneumatische transport- of pompsystemen.
Schuifafsluiters zijn geschikt voor grote openingen en hebben een geringe inbouwhoogte.
Ze worden in nagenoeg elke branche gebruikt, zoals in de food industrie, papierindustrie, afvalwaterbehandeling, chemische industrie en de stortgoedindustrie.
Merken Schuifafsluiters
Gangbare merken in de bulkindustrie zijn CMO, Coperion, Emil Kammerer, Gefa, Manuvrac, Schäffer, Schütte, Stafsjö, Vortex en Wey
Benamingen voor Schuifafsluiters
Schuifafsluiters worden ook wel aangeduid met plaatafsluiter, afdichtschuif of meskantafsluiter.
Request quotation
0
products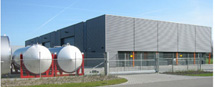 Surplus Select is located in Swifterbant (Netherlands). More contact details....
Read more